Date/Time
Date(s) - 22/07/2023 - 14/09/2023
00:00
Categories
THE GREAT WOOLLY HAT TRAIL 2023 – Carole Baker
During the summer of 2023, an amazing, colourful and fun, free public art trail is coming to Carshalton providing a stunning must-see attraction for all to enjoy – and you're invited to enjoy the adventure!
The Great Woolly Hat Trail starts on 22nd July and runs until the 14th September 2023. Located within the stunning surroundings of Carshalton. Access to the River Wandle, Carshalton Park and Hackbridge Community Gardens are all close by while on the trail. Visitors can bring a picnic or support one of our many independent cafés while passing through the high street.
A Trail Map will be available from www.creativecarole.com/thegreatwoollyhattrail2023 on 22nd July 2023. This can be used on your phone, tablet or printed from your computer.
Carole Baker has been producing post box hats since December 2020. With a variety of themes produced over the last two years. Dr Who, Minions, Peppa Pig (and family) amongst the most popular. This is also a chance for you to design a post box hat and maybe see your design on a post box by you – send your drawing to [email protected].
A great day out with family and friends. Walk, roller skate, bike, use your scooter or even a pogo stick to hunt the hats. Your challenge is to find them all! Share your adventure using #thegreatwoollyhattrail2023 #carshaltonpostbox
@creativecarole
www.creativecarole.com
Add to Apple Calendar
Add to WebCal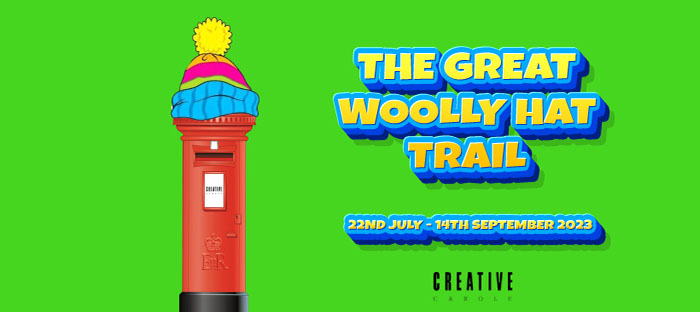 Map Unavailable