Date/Time
Date(s) - 23/11/2019
19:30 - 21:30
Location
St Andrew's United Reformed Church
Categories
Sutton Symphony Orchestra unveils its winter programme of Russian favourites.
Sutton Symphony Orchestra is back at St Andrew's URC Northey Avenue on Saturday 23rd November for its winter concert featuring works by composers who witnessed the transition from Tsarist Russia to Soviet state.
First up is Gazunov's Seasons. Glazunov composed his ballet suite for orchestra that represents the cyclic changing of the year around 1900. Lucky for us Glazunov was Russian and thus experienced 4 distinct seasons rather than a UK-style perpetual greyness. Although not as famous as other composers' interpretations of seasonal change, it is well worth a listen with stirring dances interspersed with more tranquil , pastoral scenes.
Next up is Shostakovich's 2nd piano concerto with a welcome return for John Paul Ekins as soloist. Shostakovich is often known for his defiant and brutalist works that reflect his life in 1930's Russia but this is totally in contrast – very light-hearted, playful and free flowing. Shostakovich wrote it in the late 1950's for his son's graduation – its uncharacteristic cheerfulness reflecting  what was clearly a happier, more relaxed time in his life. The second movement is well-known for its romantic melodies but the other movements are delightful in their own right too.
Last up – Stravinsky's mighty and masterful Firebird Suite. Like Glazunov's Seasons this was originally written as a ballet but is now a staple of orchestral repertoire. That said, there's nothing average or routine about it. It's a true showpiece of orchestration that tells the story of the Firebird in Russian folklore using innovative orchestral effects and brilliant scoring. It's raw, lavish, sumptuous and chaotic all in one. It was the first of Stravinsky's works to be performed outside Russia and cemented his reputation as a daring composer well before The Rite of Spring came along.
The concert starts at 7.30pm, tickets from https://www.wegottickets.com/event/481445 or on the door: adults £10, under 18s free. Refreshments at the interval.
Sutton Symphony Orchestra (Conductor Philip Aslangul, Leader Annmarie McDade) rehearses on Tuesdays and provides an opportunity for local musicians to tackle ambitious orchestral works. SSO performs 3 concerts per year. If you are interested in joining, get in touch: http://www.suttonsymphonyorchestra.org/
http://www.suttonsymphonyorchestra.org/contact-us/
https://en-gb.facebook.com/SuttonSymphonyOrchestra/
Twitter: @SuttonSymph
Instagram: https://www.instagram.com/suttonsymphony/
Add to Apple Calendar
Add to WebCal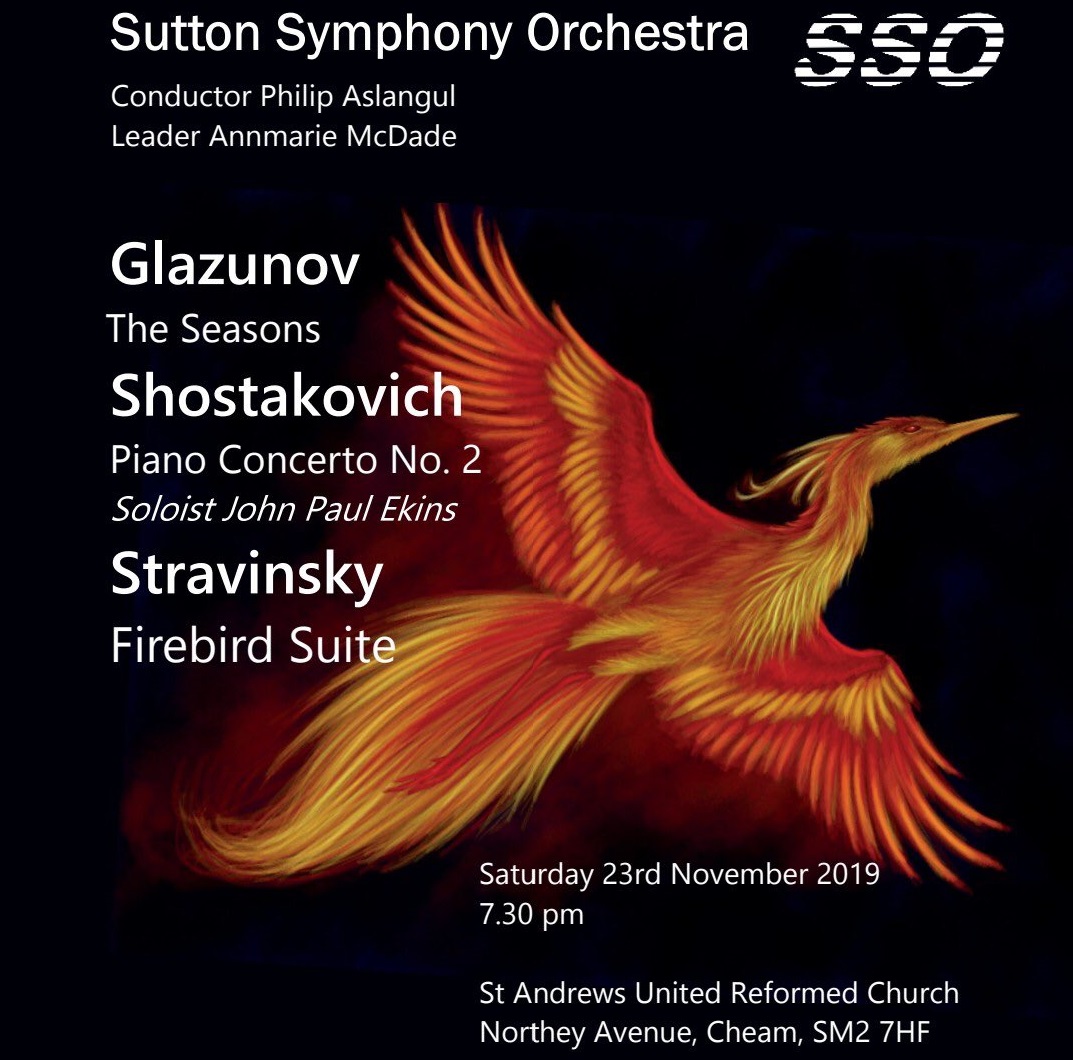 Map Unavailable